Growing Sales while Revitalizing Communities
A Local Gov Lead Generation Conversation with Maggie Kavan Co-Founder of MODSTREET
Meet Maggie Kavan Co-founder and CMO of MODSTREET
In a recent interview, Steve Machesney sat down with Maggie Kavan, co-founder and the Chief Marketing Officer of MODSTREET, a company that's making waves in the community revitalization space. Here's what he learned. Please note that Power Almanac, mentioned in this piece, will soon become MarketEdge Verified Contacts.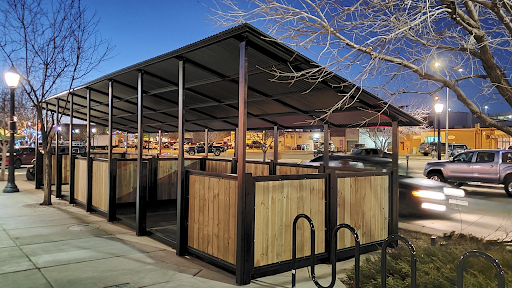 Born Out of the Pandemic
The pandemic was a challenging time for many, but for some, it was a period of innovation. While devastating, the pandemic highlighted the need for more pedestrian-friendly zones, and MODSTREET was there to answer the call.
Their mission: assist large and small communities to expand pedestrian zones, enhance walkability and breathe new life into urban spaces. First open for business in April 2020, MODSTREET had sold its first unit by July.
Tapping into the Right Local Gov Decision Makers
Because of its modular design, quick set up time, and flexibility, MODSTREET's products can serve multiple roles for local governments depending on their needs. And because MODSTREET is so flexible the decision-makers vary by application. For example, outdoor dining might involve the heads of economic development or planning whereas a stage might loop in the head of parks and recreation.
"Before Power Almanac, finding out who to talk to was a challenge. I tried Googling it but found that government websites were often out-of-date. On top of that, titles varied from place to place so it was hard to tell who did what. I also tried B2B solutions like ZoomInfo but their local government data wasn't good."
Peeking Behind the Scenes in Accounts
Maggie's role at MODSTREET isn't limited to marketing. As the Chief Marketing Officer and Director of Sales, she's deeply involved in both the marketing and sales aspects of the business. This dual role gives her a unique perspective, allowing her to utilize tools like Power Almanac for broad marketing campaigns and MarketEdge for more targeted prospecting.
Maggie explained her process. "I keep my finger on the pulse of what communities are talking about and the words they use. Things like placemaking or streetscape, revitalization, or outdoor dining for example. Then I go into MarketEdge and look behind the scenes to see what those local governments are searching for and how they're searching for it. From there I get the right case study, in front of the right officials, to start the right conversations."
Timing and Context are Key
"It's all about timing," advised Maggie. "Prospects expect you to present a solution for a problem that they're experiencing right now. They're more bought into what I'm presenting because it's responding to their immediate needs.
It also helps that I use HubSpot to nurture prospects. By dropping them into specific campaigns, and trickling out information over time, I find that they start to see me as a resource. The information I'm sharing is based on the experiences of other communities and local leaders love that because it means not having to reinvent the wheel. This all helps to overcome the barrier of not wanting to be sold to. It moves me from salesperson to guide."
She also values searching for contacts by zip code in Power Almanac when she's promoting a success story because local governments care so much about what their neighbors are doing.
What's it Like Working with the MarketEdge Team?
"Oh my gosh, great! Your customer service and  people make it feel really personal. I can feel their commitment to my success. It's really moving. They're even adding keywords to MarketEdge that they weren't searching for before so I can really drill down and find the right prospects.
And it has made a big difference. I'm having a lot of really good conversations with people that are researching problems that MODSTREET can solve. I also appreciate how easy MarketEdge is to use. It makes onboarding new employees really easy."
Looking Ahead
From its pandemic beginnings in Colorado, MODSTREET has now expanded its reach to nine states. Their modular system's versatility has opened doors to various applications, from outdoor dining patios to stages and even transit stops. The company's ability to adapt and respond to community needs has been a significant driver of its success.
Maggie's enthusiasm for her work is evident. With tools like MarketEdge, she feels like she has a "crystal ball," giving her insights into potential community needs. As MODSTREET continues to grow and innovate, it's clear that they're on a path to make a lasting impact on communities across the country.
Sign Up for the WeeklyEdge
Every Monday we'll deliver active State and Local government accounts to your inbox that our proprietary AI identified for you based on the keywords that you care about.
Get Your WeeklyEdge